Chinese citizens who want to enter Vietnam for any purposes all need to apply for Vietnam visa. However, depending on the purpose entering Vietnam that the fee and the process are different. How to apply for Vietnam Tourist Visa for Chinese citizens?
View more:
According to the rule of Vietnam Immigration Department, Chinese passport holders can apply for Vietnam tourist visa which is be valid for one month, but it can be extended for 1 month or 3 months more in case Chinese wishing to stay in Vietnam longer than your visa's permitted duration.
How to apply for Vietnam tourist visa for Chinese citizens?
Applying visa at Vietnam embassy in China
By visiting the Vietnam Embassy in China which is near your living, you can get Vietnam visa by coming in person or by post. The visa procedure may take several days (usually from 3 to 6 working days) and the visa fee may vary from embassy to embassy.
Applying Vietnam Tourist visa is a more complicated way than applying Vietnam Visa Online. You have to lodge your passport and relevant documents to Vietnamese Embassy or Vietnamese Consulate in China. It's inconvenient for someone living far. Sometimes your application is failed because of missing passport, important documents.
This way takes you a lot of time for applying and waiting. You don't know how the progress of your application is going on. If you want Visa urgently whether your Visa will be ready in time. This is a difficult question if you need Vietnam Visa urgently such as on business, study, medical problems… In addition you cannot restrain expense, have to pay additional cost.
The applied fee and processing time to get Vietnam tourist visa is regulated specifically when you submit visa request. Normally, it takes from 3 o 5 working days and USD 90 for visa issuing.
We will tell you the address of Vietnam Embassy in China as below:
Embassy of Vietnam in China
32, GuangHua Lu, JianGuo Men Wai, Beijing, China
Phone: (86-10) 6532 1155 / 6532 1125/ (86-10) 6532 11
Fax: (86-10) 6532 5720/ (86-10) 6532 57
Email:suquanbk@yahoo.com
Applying Vietnam visa online for Vietnam Tourist Visa for Chinese citizens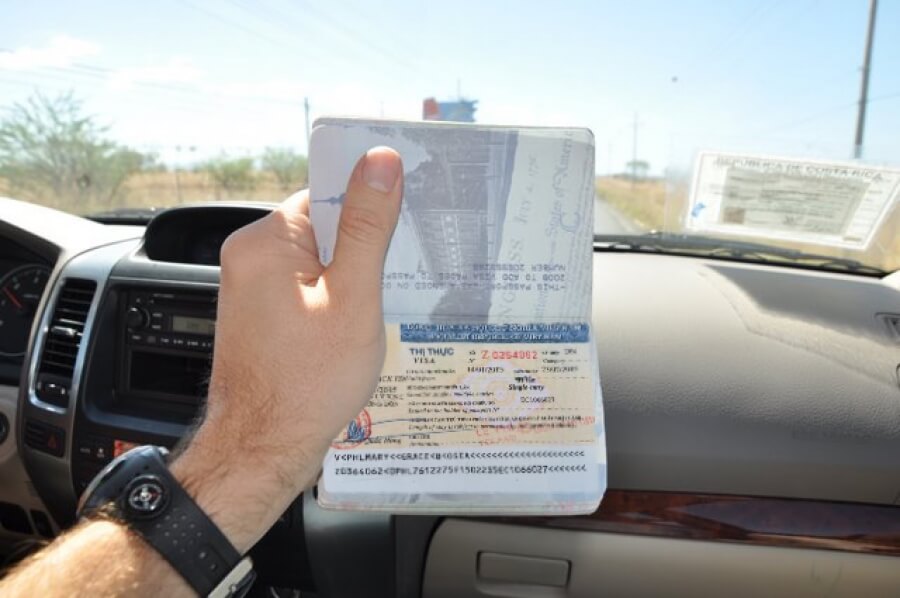 Until now, this service is opened to help air travelers get their visa in the simplest and cheapest way.
At this moment, some China airports require Chinese citizens to have a visa stamped onto passport before departure to Vietnam. Chinese passport holders are not allowed to get on board from China airport with visa approval letter only. Thus for Chinese citizens who depart to Vietnam by airway from China mainland, visa on arrival is not recommended. In this case, China citizens should come directly to Vietnam Embassy in China to request for visa to Vietnam.
If China passport holders plan to travel to Vietnam from a third country by airway, Vietnam visa on arrival would be the best choice.
To apply Vietnam visa online for Vietnam Tourist, you can follow the 4 simple steps as below:
Fill in your information in the visa application form online (your information must be the same as the one in your passport).
Make payment for service fee (by PayPal, Credit Card, Western Union or Bank Transfer)
Within 2 working days (standard service), 1 working day (urgent service) or even 4 working hours (super urgent service), please check your registered email box to receive the approval letter from us, print it out.
When you arrive at Vietnam airport, by presenting a passport with at least 6 months validity, two recent photo (4×6 cm), Stamping fee USD 45/person for single entry visa (1 month or 3 month), and visa approval letter for Vietnam Immigration officers. At the landing visa office, submit those documents, fill in your entry and exit form, pay stamping fee and get your Vietnam visa.
For further information and guidance on how to get Vietnam tourist visa for China citizens, please feel free to contact us via email sales@visaonlinevietnam.com or hotline +84 968 18 77 18.