Accompanied with the increasing of people going to Vietnam every year, one of most common questions that we hear several times is "Do you need a visa to go to Vietnam?", because foreigners wanting to visit any countries all need to apply visa, but sometimes there has exempted situation.
After answering Is it safe to travel to Vietnam? with the word YES, we are sure that you may feel free when deciding to travel this beautiful country, thanks to the warm climate, hospitable locals, wonderful sightseeing and delicious food. Before visiting Vietnam, do you need a visa to go to Vietnam?
Vietnam visa Exemption list
As any countries, this country also requires you a visa to enter, but there are also has exemption: citizens from 24 countries are exempted from visa, thanks to the Vietnam Visa Exemption rule. Which countries are exempt from Vietnam visa? Do you need a visa to go to Vietnam?
As of January 2019, regular passport holders from 24 COUNTRIES below DO NOT need a tourist visa for Vietnam:
| | | |
| --- | --- | --- |
| COUNTRIES | PASSPORT REQUIRED | MAXIMUM STAY |
| Chile | Yes | less than 90 days |
| Cambodia | Yes | less than 30 days |
| Indonesia | Yes | less than 30 days |
| Kyrgyzstan | Yes | less than 30 days |
| Laos | Yes | less than 30 days |
| Malaysia | Yes | less than 30 days |
| Singapore | Yes | less than 30 days |
| Thailand | Yes | less than 30 days |
| Philippines | Yes | less than 21 days |
| Brunei | Yes | less than 14 days |
| Myanmar | Yes | less than 14 days |
| Belarus | Yes | less than 15 days |
| Denmark | Yes | less than 15 days |
| Finland | Yes | less than 15 days |
| France | Yes | less than 15 days |
| Germany | Yes | less than 15 days |
| Italy | Yes | less than 15 days |
| Japan | Yes | less than 15 days |
| Norway | Yes | less than 15 days |
| Russia | Yes | less than 15 days |
| South Korea | Yes | less than 15 days |
| Spain | Yes | less than 15 days |
| Sweden | Yes | less than 15 days |
| United Kingdom | Yes | less than 15 days |
Special notes:
Foreign passports are exempted from visa requirements to Phu Quoc Island for no longer than 30 days. If they transit through other international airports in Vietnam before arriving Phu Quoc, they are still eligible for the exemption.
APEC Business Travel Card (ABTC) holders with valid passports are exempted from Vietnam visa requirements for a stay of no longer than 60 days.
If your country is in Vietnam visa exemption list, you will be able to visit Vietnam without a visa, but you are allowed to stay in this country during the limited period. A longer stay will required you a Vietnam visa.
If your nationality is in this list, you do not to apply for a Vietnam visa, otherwise you still have to. Are you the citizens of countries which are included in the Vietnam visa exemption list currently? Do you need a visa to go to Vietnam?
Visa can be not the only task to solve. Before I decided traveling to Vietnam for vacation, I needed to finish all my University assignments. I may have been against the numerous writing services online at first but I now see their importance. I got stuck at a work seminar for a week and almost failed to meet the deadline for my assignments. One particular essay writing service in the UK saved my skin at that time. I found a Related Site that works greatly for me! Try it if you need help! They may cost some, but they do help you keep up to speed when needed.
How many types of Vietnam Visa?
Two types of Vietnam visas are available, with your choice depending on the intent of your trip. If you're traveling primarily for business, you'll want to obtain a business visa. Those heading overseas for leisure will want to get a tourist visa.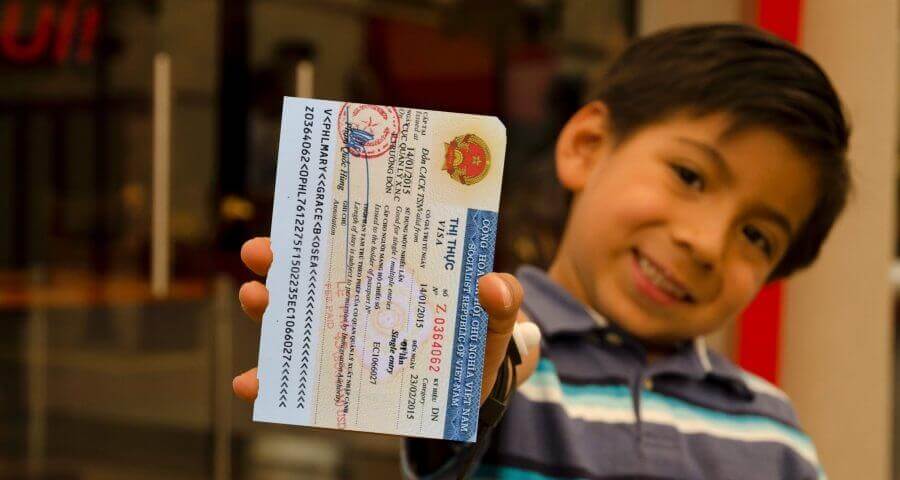 Both visa types have different entry and validity parameters. Your business or tourist visa can be valid for single entry or multiple entries, for periods that range from one month to one year.
How to get Vietnam visa?
Apply for Vietnam Visa at Embassy
The traditional ways that most people get used to doing is applying directly at Vietnam Embassy which is near their stay. This is 4 steps you should do to apply for a Vietnam visa:
Visit the Embassy website, and download and fill in the form.
Contact the Embassy (with the details provided above) to make an appointment.
Bring all required documents (see below).
After 5 working days, return to the Embassy to collect your visa.
Process time: it depends on you and how fast you need your visa. In many different cases, time will not be the same. For a clear answer, you should make a call to your agency or to Vietnam Embassy for details.
Required documents
A completed visa application form
Your original passport
2 passport-size photos (30mm width x 40mm height, in colour, taken within the past six months and without glass wears)
Your flight booking
Proof of payment for visa fee (if you are using a courier service, or depositing the fee into the Embassy's account at a bank)
Proof of accommodation for full stay
Vietnam visa on arrival
Vietnam Visa on Arrival is effective for people who live distant from the Vietnam Embassy and DON'T want to get unwanted troubles, such as losing the vital document (passport, money or documents) via communicating mail or traffic jam once visiting Vietnam Embassy…
We powerfully suggest you booking tourist visa or business visa on-line because the shortest and quickest option to get Vietnam visa as a result of it is several advantages:
– Process time: simply one to 2 working days in traditional case. Four to eight operating hours in urgent case and up to half an hour for rush case.
– Needed Documents: No documents required
– Most extra services: when you apply online as FAST TRACK, CAR PICK UP, BOOKING HOTEL… some extra services are available. These services can support you save time and acquire a lot of comforts in your trip.
How to apply Vietnam Visa on Arrival?
You maybe need a help of the agency who will help you to get visa online Vietnam, after filling in the form online and take a payment for service fee
After the confirmed time, an approval letter will be sent to you.
They shall automatically process approval letter and give the result back to your contact's email on the bookings as processing time (working time)
Before applying visa, there are something you should note:
– Please make sure that your passport has minimum 6 months validity and left pages.
– For visa on arrival option, it is applicable to those who travel to Vietnam by air only.
How much do you have to pay for Vietnam visa?
Depending on what type of visa you apply, there will have an exactly price that you need to pay. For detail cost, please visit Vietnam Visa Fees, remember to choose your nationality before submitting.